Rini is an engaged speaker about speed and agility of people and organizations. His talent is to explain complex content in a simple and humorous way.
He does this by using simple analogies and by telling concrete practical anecdotes. He also shares simple and powerful models in his presentations. And that doesn't always have to be completely serious; there may also be laughter.
Rini does not use PowerPoint slides. During his lectures, Rini uses two flipcharts: one for the central line of his story and the other one for the side paths and additional models. Also a handout is provided afterwards based on his talk and the flipcharts drawn.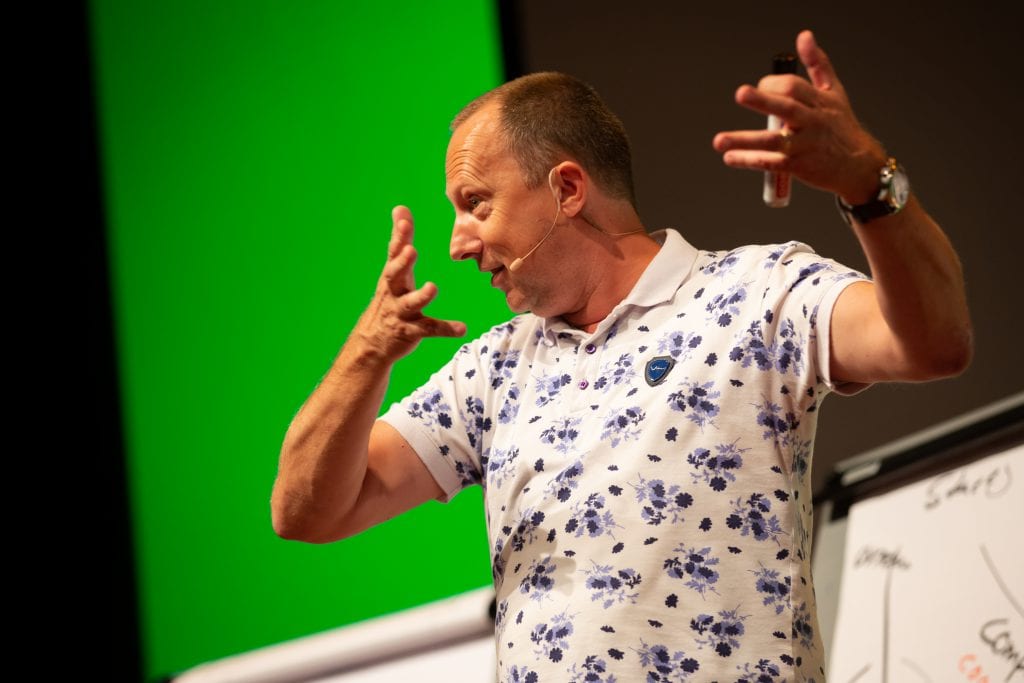 Rini focuses on empowering his audience (how do you apply this the next day? what can you do and what should you leave?). He helps to see why things are going the way they are and what you can do yourself directly. As a result, his presentations usually get high scores and he often is the best-rated speaker at events. Examples of his lectures are:
The why, how and what of agile

How do you make an organization fast and agile (or how to make a mess)?

Agile leadership – how does that work?

How to increase your personal speed and agility?

Extreme acceleration in organizations, how to establish that?

What is an agile culture and how to create it?
Scientific publications
From 2010 onwards, Rini is a part-time full professor in global software engineering at the Delft University of Technology (faculty of Electrical Engineering, Mathematics and Computer Science - software technology department). He provides education and research into distributed software teams (near and offshore). He regularly publishes about this. His most important scientific publications on this subject are:
A lecture by Rini usually lasts an hour. However, sometimes there is a need for a longer duration or more intensive interaction. Then a workshop or training is probably a better alternative.
Workshops usually last 2 to 3 hours and are designed together to give best results. Training by Rini is also possible, varying from one to a few days or, for example, half a day per month for six months in row. Please get in touch to discuss this.
As Rini has a lot of experience as a board member and has helped with transformations in large corporate multinationals, he also is a perfect consultant for management sessions and/or board meetings.
Consulting & coaching
Looking for personal guidance in making yourself or your organization / department / team faster or more agile? Rini is available as a coach or consultant. Feel free to contact him to investigate what could be an appropriate way to get things working.
Rini is also closely working with Prowareness We-On. Prowareness WeOn employs a large number of agile coaches, consultants and professionals who help clients in their agile transformation on a daily basis. In addition, Prowareness We-On has its own academy with a wide range of (certified) training courses and also provides agile software development through its sister organization DEVON.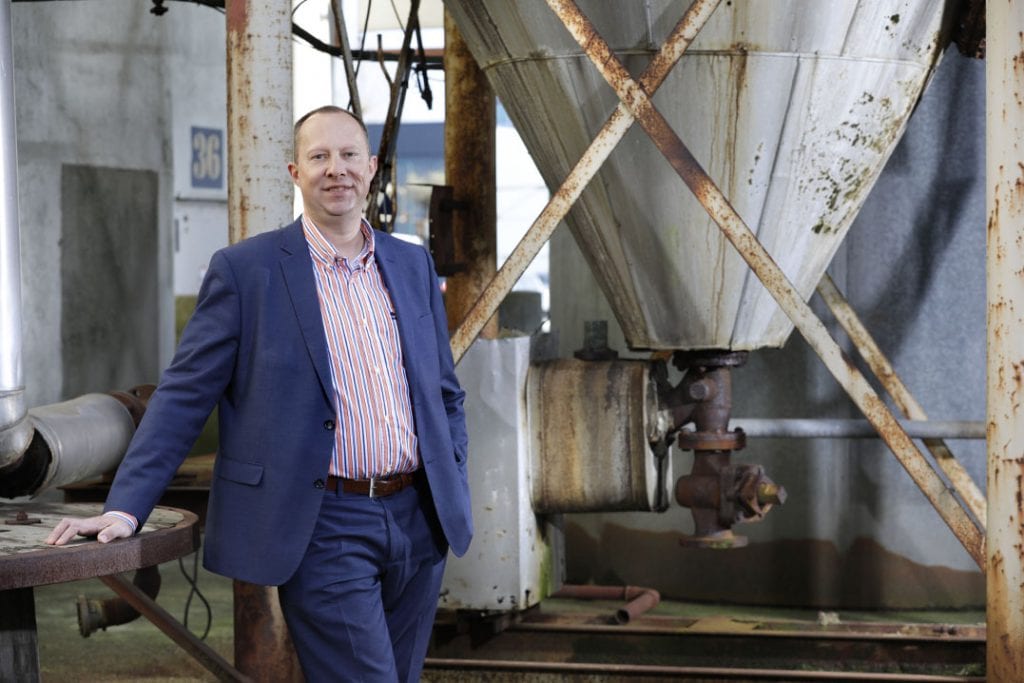 Rini van Solingen is a part-time full professor at Delft University of Technology, and acts as CTO for Prowareness We-On. He also gives invited lectures at Nyenrode Business University in several master classes and MBAs.
Rini lives in Zoetermeer with his wife Patricia and their children Bo and Bas. Together with Patricia he is co-founder of Logeerplezier foundation. This foundation provides holiday accommodation and weekend stays for families with a disabled child. His hobbies are soccer, skiing, fitness, running and enjoying life.
Rini studied computer science at Delft University of Technology (graduated in 1995), holds a Ph.D. in Technology Management from Eindhoven University of Technology (PhD in 2000) and has been a part-time full professor in global software engineering at Delft University of Technology since 2010.
In his working life, Rini was a filling shift manager at Hoogvliet supermarket, night auditor at Baron Hotel Zoetermeer, senior quality engineer at Schlumberger / Tokheim, department manager at Fraunhofer IESE, principal consultant at CMG / LogicaCMG / CGI, and CTO at Mavim.
Since 2010 he fills the CTO role at Prowareness We-On, works as strategic consultant for DEVON and is professor at the Delft University of Technology.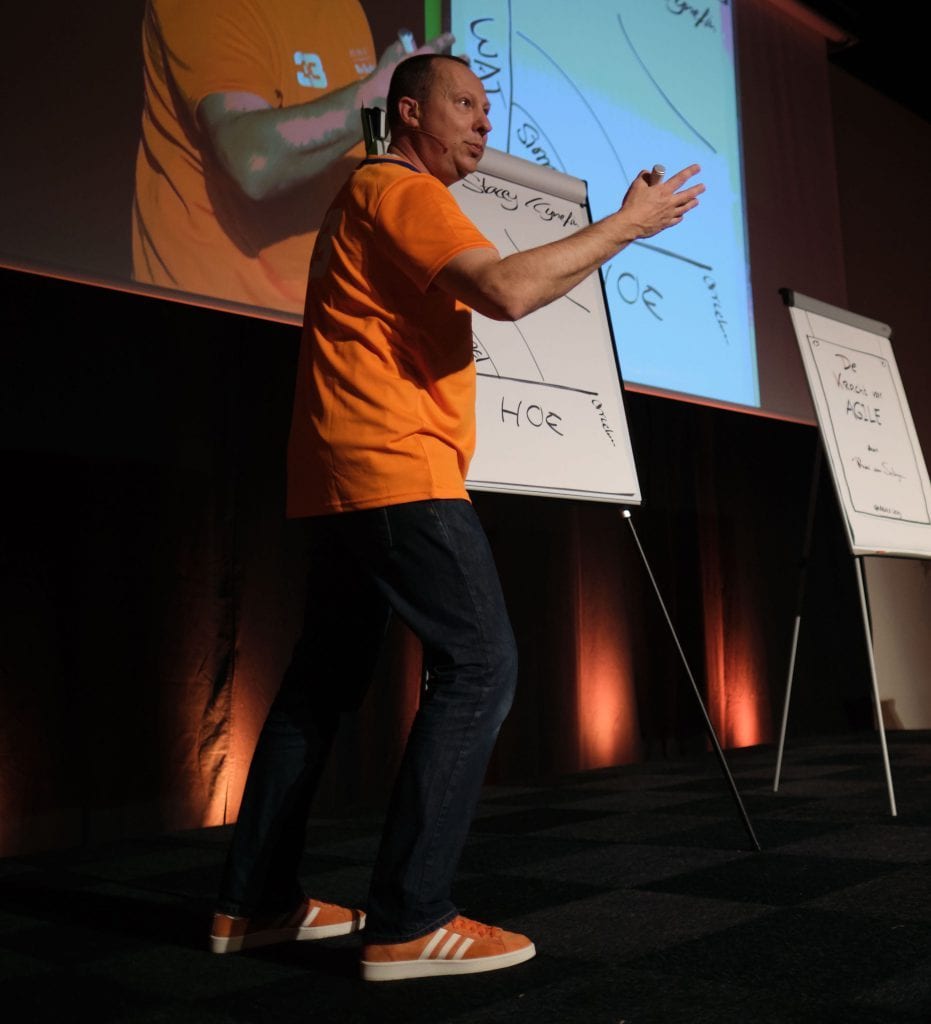 Get in touch with Rini
Book Rini for a lecture at your event? Or do you have some other question? Get in touch to discuss possibilities.
Pricing (within Europe):
Lecture (45-75 minutes): € 4.950
Workshop (3 hours): € 7.950
Training (day): € 11.950
All prices are excluding 21% VAT (if applicable) and travel cost. eLectures (via Zoom, Skype, MsTeams, etc.) receive € 1.950 discount on the above prices.
For prices outside Europe, please get in touch.